Golden Jubilee School Alumni Association was formed in . The need for forming the association was felt by many alumni who wanted to keep the connect with their alma mater.
How to become a member
All students who have studied in the school for at least 2 years or in class 11 and 12 are eligible to become members of the GJS Alumni Association. To become a GJS Alumni Association member one has to register with the school online through the school website.
Executive body
The executive body shall consist of one representative from each batch of students who have studied in the school. The batch here refers to the students who have or would have passed out of the school in class 12 if they had continued their studies in the school. Thus the first batch will be of 2006.
The alumnus representing a batch shall be elected/selected by the batch mates. A President, Vice President, Secretary and Treasurer shall be elected by the executive body members from within the executive body.
The executive body shall meet from time to time and shall organise at least one alumni get-together a year.
Executive Body
The executive committee for the year 2020-21
| Name | Designation |
| --- | --- |
| Mrs. Srishti Rao | President |
| Mr. Aditya Kishore Pande | Vice President |
| Mrs. Rachna Swapnil Mohta | Secretary |
| Mr. Abhijeet Jain | Treasurer |
| Mrs. Anupama Thakur | School Representative |
Current Members
Batch of 2018
Batch of 2019
Batch of 2020
Batch of 2021
Alumni Activities
Following activities were performed by the Alumni in the academic year 2021-22
1. My Memories in School
The alumni were given an activity to create a collage of their memories associated with the school. The activity was to be performed on Padlet, a real-time collaborative web platform in which users can upload, organize, and share content to virtual bulletin boards called padlets. The alumni uploaded wonderful and memorable photographs of their schooling life along with the comments. Alumni enjoyed this activity and had a memorable experience in which they relived the school days.
Please click the Link Below to see the wornderful collage prepared by our Alumni
Click here to view the Collage
2. Poem writing on the occasion of Founder's Day on 13th August 2021
The alumnus was invited to write poems based on their memories attached with school. Though not a overwhelming response was received but five alumnus wrote poems and shared with the school. The school would like to thank the alumni for dedicating their time and efforts to participate in the Founder's Day event. The school expects more participation and involvement from the alumni in the future.
Following are the Poems dedicated by the Alumni to school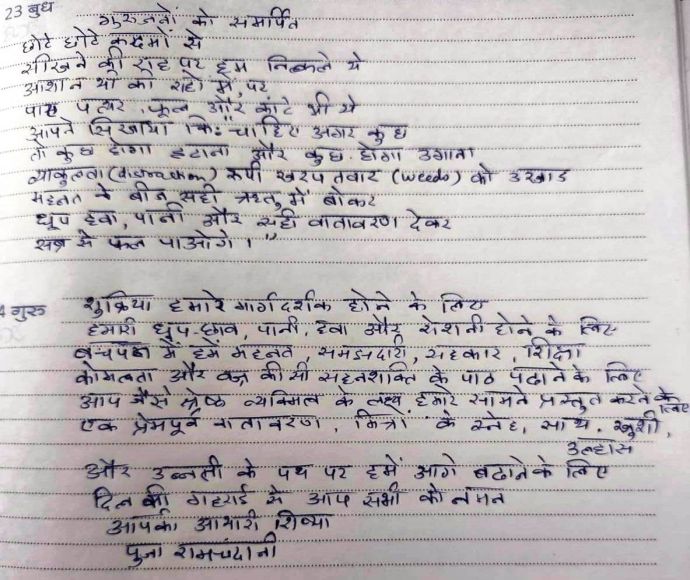 Poem by Pooja Ramchandani (First Batch Alumna)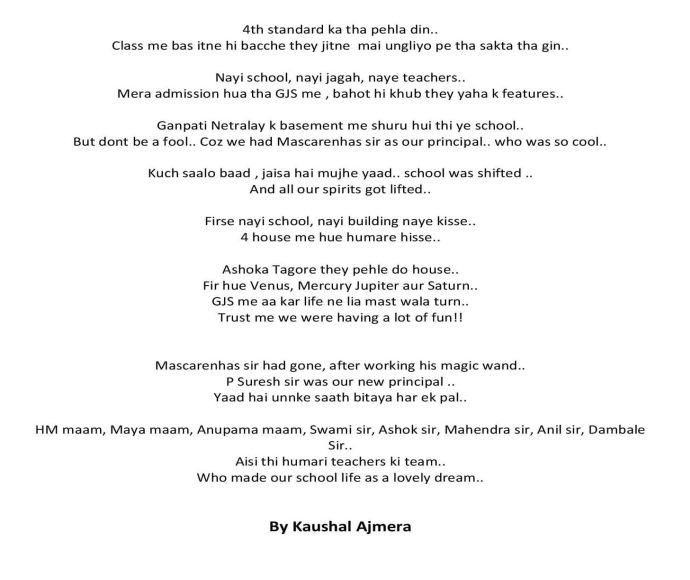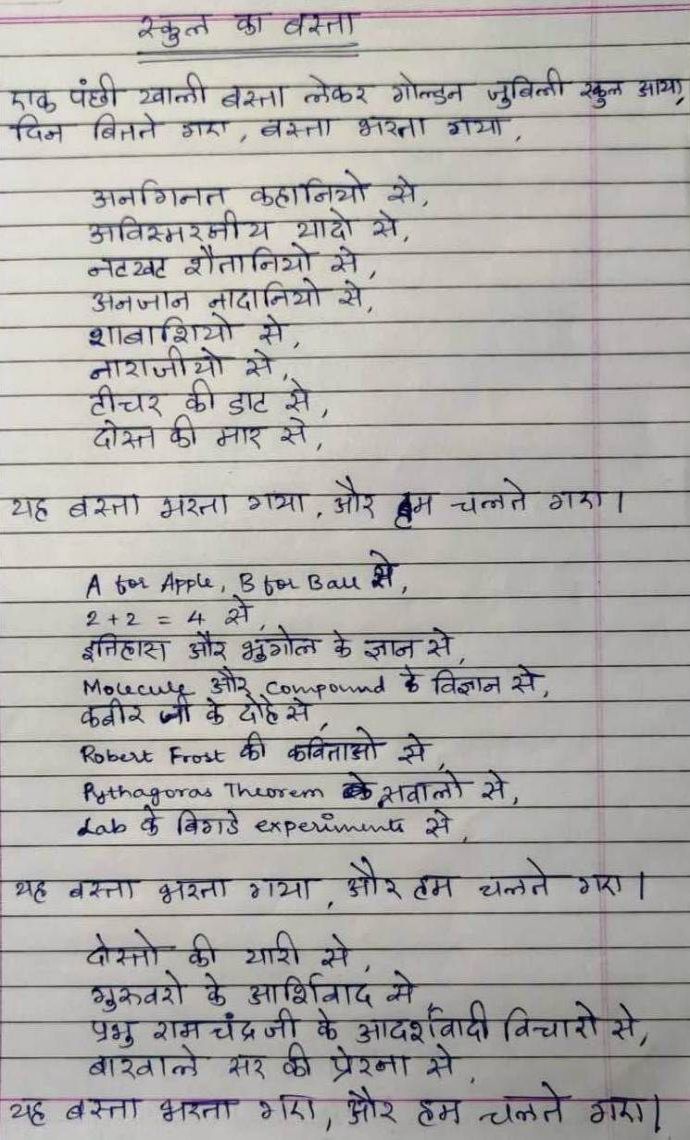 Poem by Piyush Udhan