Academic Session Begins- 1 April 2019
The academic year began on 1 April
Children were welcomed to the new classes by the respective class teachers. They were inducted into the new classes. They were issued books and stationery and briefed about the importance of starting their classes in right earnest.
Gudhi Padwa Celebration - 5 April 2019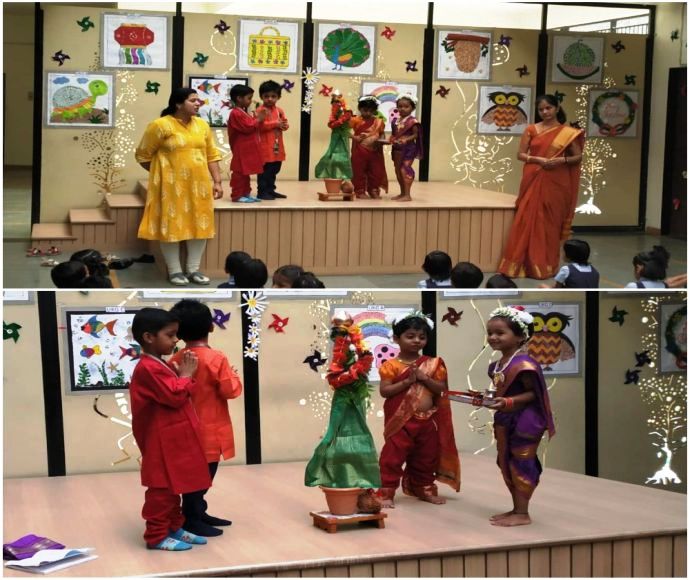 Gudhi Padwa was celebrated by the UKG students in the Assembly. Students came dressed up in traditional costume. Teacher spoke about the importance of festival. Teachers decorated the Gudhi and spoke about the Gudhi. Pre Primary students offered flowers and garlands to Gudhi and worshiped it. Students were also informed about the importance of Neem leaves.
Parent Induction Program - 10 April 2019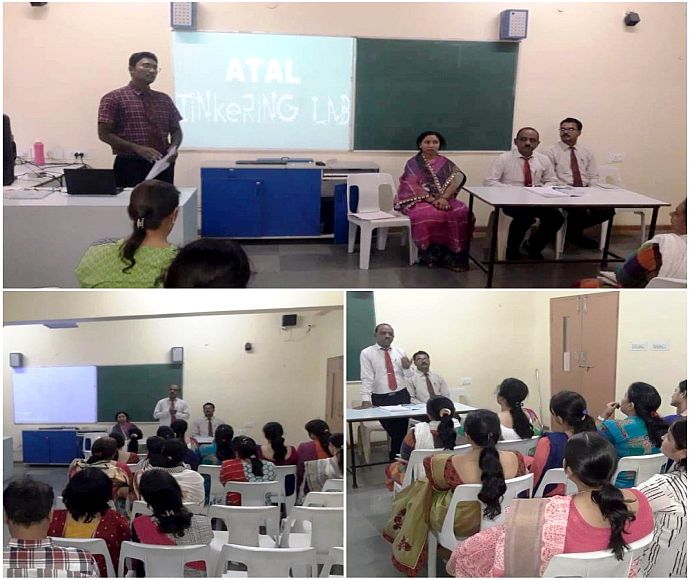 The parent teacher meeting for this academic session began with the induction of parents of class 6 & 7 on 10th April 2019. The Parent Induction Meetings are an opportunity for parents to come into school, meet their child's new class teacher & subject teachers and find out more information about the coming year in school. It also familiarizes the parents with the school policies, rules and regulations. A complete schedule of assessments, information about academics, etc was made available to them. The school has been selected to establish Atal Tinkering Lab. A brief introduction of Atal Innovation Mission was given. The objective of this scheme is to foster curiosity, creativity, and imagination in young minds and inculcate skills such as design mindset, computational thinking, adaptive learning, physical computing etc.
Investiture Ceremony - 15 April 2019
The Investiture ceremony for the Year 2019 took place on the 15th of April. The Chief Guest for the ceremony was Mrs. Jyothe Rao, Vice Chairperson of Golden Jubilee Education Society, who congratulated the newly appointed student council and spoke about the importance of team spirit and leading by example. The ceremony was witnessed by the students of Classes 6 to 12 and the parents of the elected Student Council.
GJS helps Martyrs - April 2019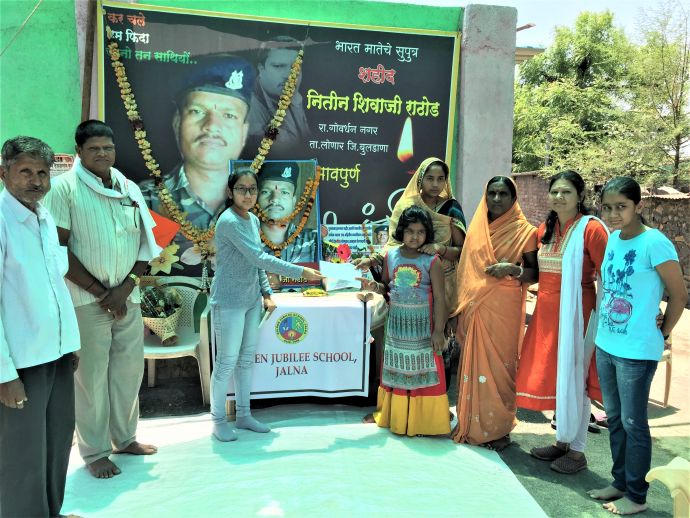 Sanvi Rajan Udhan, a Class 9 student from Golden Jubilee School, Jalna took initiative to raise funds from GJS students and staff members for the families of martyrs who laid down their lives in line of duty in the terrorist attack at Pulwama in Jammu & Kashmir on 14 February 2019. Sanvi Udhan was accompanied by her classmate Kanak Peety and Anupama Thakur mam to Chorpangra village in Buldhana district to donate a Fixed Deposit to the family of Martyr Nitin Rathod. Sanvi was also accompanied by Mayadevi Thakur mam to Malkapur to offer a Fixed Deposit to the family of Martyr Sanjay Singh Rajput. The school has also made arrangements to send a demand draft to the family of Martyr Naseer Ahmed from Dodasan Bala, Taluka- Thanamandi, District Rajouri, Jammu & Kashmir State.